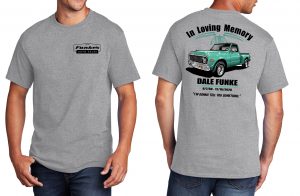 Not comfortable ordering On-Line?
You can download the instructions and order form HERE or share it with others.
ABOUT:
We are ordering t-shirts created in honor of Dale Funke. They can be worn at his Memorial or anytime. You do not have to attend the Memorial to purchase a t-shirt. Dale's Memorial is set for August 7th (his birthday) at the Red Lion from 2pm to 6pm.

ORDERING INSTRUCTIONS:
Complete the form below and press SUBMIT. You can print it before you press SUBMIT button to have a copy for yourself. (File, Print)
INCLUDE this form AND YOUR PAYMENT and place it in an envelope.
Make checks payable to Peggy or Craig Funke, not Funkes Auto Sales.
PRIOR TO JULY 1, 2021:
DROP OFF the envelope at Funkes Auto Sales, 405 3rd Street, Clarkston
or MAIL the envelope to Peggy Funke, 1534 Maple Street, Clarkston, WA 99403.
A confirmation will be sent to you when your order with your payment is received. Orders must include payment.
You will be notified when the Memorial date is set and when the t-shirts are ready for pick up.
We prefer you pick up your t-shirt(s) when they are ready but if that is impossible for you, we will mail your shirt(s) to you at an additional cost. (See rates below)
Questions: Contact Peggy by E-Mail, Text or phone 509-254-3601.
T-SHIRT INFORMATION
COLOR and ARTWORK:
All t-shirts are heather grey, Gildan 64,000 Soft-style (65% polyester/35% ring spun cotton). The front will have Funke's Auto Sales logo in black and the back will have a 5-color image similar to the pickup that Dale was working on for Meghann. The final design is complete and looks as shown. A HUGE Thank You to Jesse Clark from Cover Me Tees for donating his time to create the artwork!! Jesse and Dale were good friends and went to High School together.
T-SHIRT COST: Youth  S, M, L, – $18 each  •  Men's S, M, L, XL – $18 each  •  Men's 2XL to 6XL -$20 each plus a $2 extra each size up (2x is $20, 3x is $22, etc.). Sales tax included in price.
MAILING COST: The additional cost to mail t-shirts: 1-2 is $7, 3-4 is $10, 5-6 is $13, 7-8 is $16. Over 8, please call for a quote.
DONATIONS: We are accepting donations to be split between Shannon and Funkes Auto Sales to help with expenses. If you would like to donate additional funds, please check the box below and include the additional amount with your payment.
ADDITIONAL THANK YOU'S: We want to thank everyone that has been helping Meghann's pickup come to a reality. Cory Koole – owner NAPA Auto Parts, All About Auto Body, Kyle Johnson, Wayne Stoddard – owner of G & A Wheel and Frame, Ty Walters, Mike Cowan, Mike Stegner, Dale Gleason, Tony Maiorana, Kelly Kaufman, Dave Funke, Craig Funke, and anyone else we may have overlooked. We appreciate you!